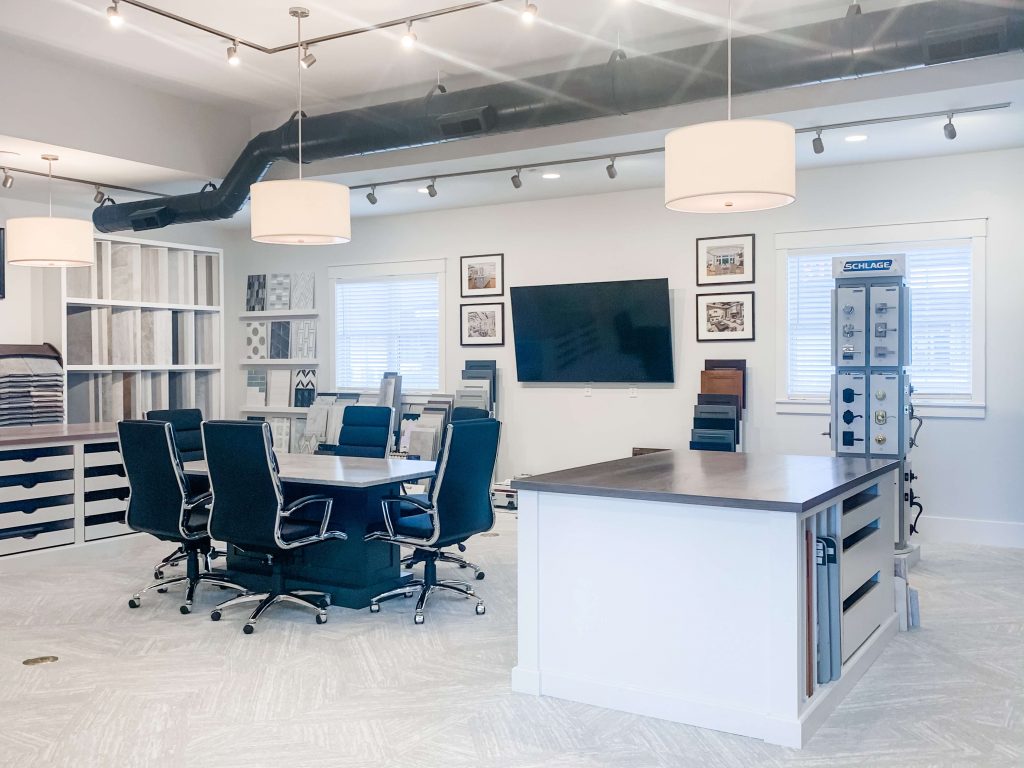 To some, the custom home selections process can feel daunting. With an endless amount of options, it can be overwhelming for clients as they begin their homebuilding journey. However, at Wieland Builders, we have a dedicated team and process to guide you through the selections in your home. In that process, we aim to take as much of the burden off our clients as possible, and coordinate everything in-house. This ultimately gives more control to our clients, ensuring they receive the best service and prices.
Our in-house Selections Coordinator, Robyn Howser, is the go-to resource during the selections phase. She walks clients through every step of the home design process to ensure each detail is carefully selected and ordered, from the appliances to the cabinet pulls.
Additionally, we've recently completed our new state-of-the-art selections center at our office in West Chester, Ohio. In this space, clients can peruse many popular brands and finishes. Furthermore, they can touch and feel materials and dream up real-life looks.
How can clients prepare for the selections process?
Before a client's initial selections meeting, Robyn will walk through the selections process so they know what to expect. She'll also send an agenda ahead of time with some thought starters to get a feel for personal style. We love when clients share their Pinterest boards or other sources of inspiration that help narrow down ideas for their custom homes.
What can a client expect at their first design center appointment?
At the first appointment, Robyn will sit down with clients to review the main selection categories. Typically, we start with the exterior and work our way in. For example, siding, windows, garage door style, and exterior paint colors are commonly selected first. Then, we move on to interior items, such as cabinets, flooring, lighting, and trim.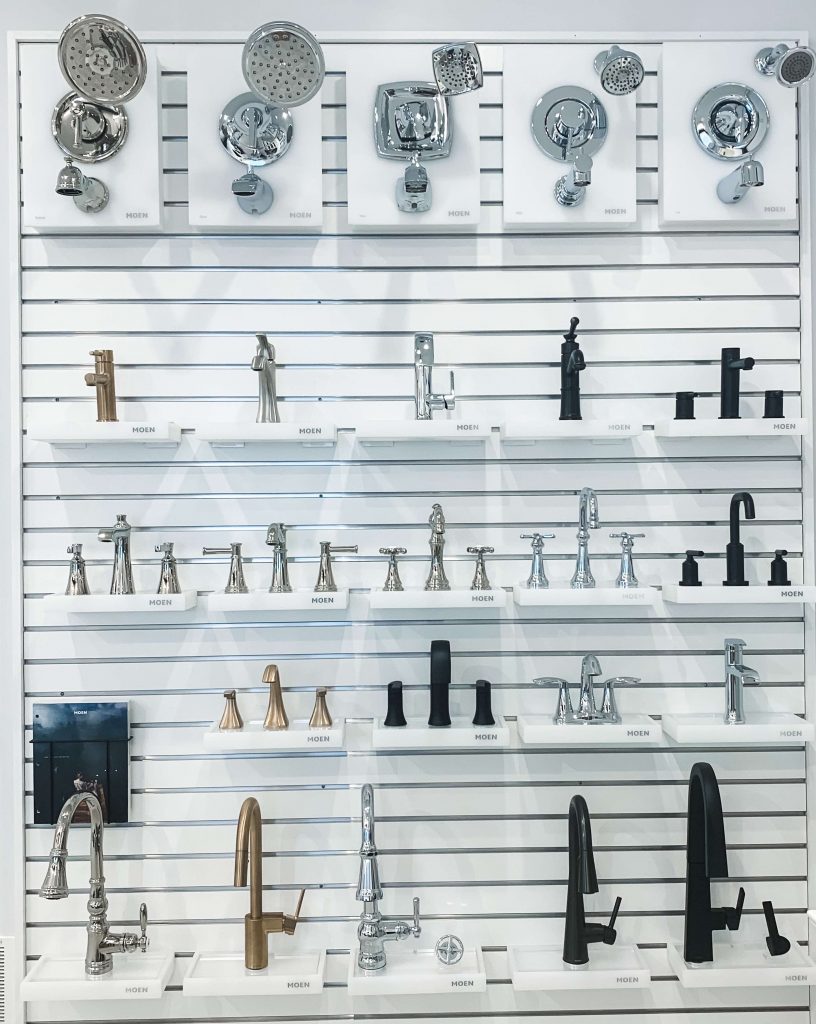 What are the top materials clients like to see throughout the selections process?
We know it can be difficult to visualize how some items look together, so we keep hundreds of samples in stock at our selections center. This allows clients to touch and feel the materials and see their selections come to life. From bathroom fixtures, to cabinet door styles, large flooring samples and cabinet layout drawings, our design center is stocked to provide clients with resources needed to feel confident in their selections.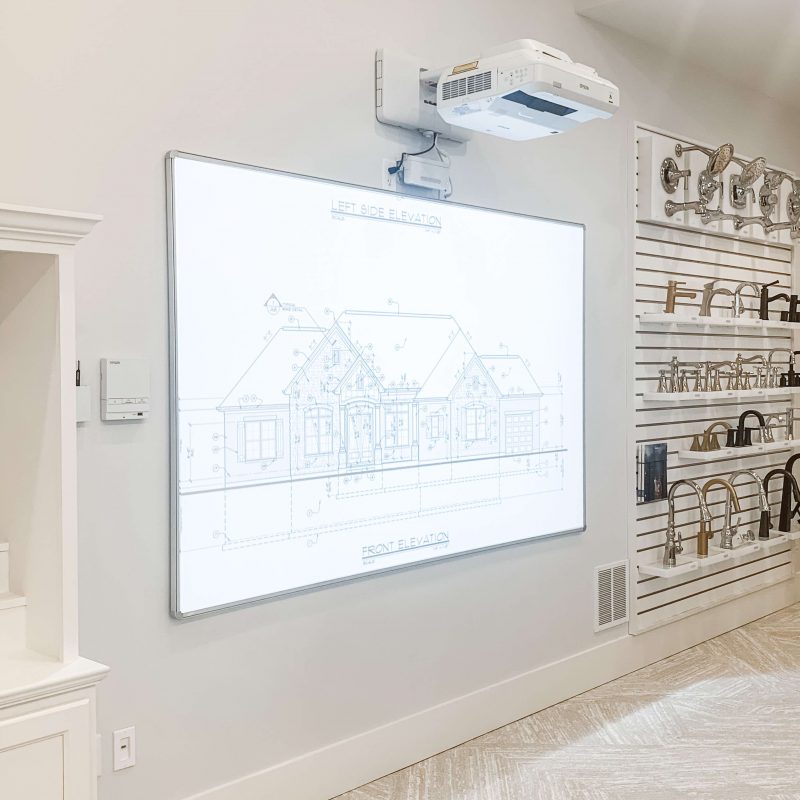 The selections center has a designated shelving area where we can display client selections in one space so we can see how the finishes work together. This space is situated next to our large working projection screen where we dive into details on client drawings and plans. We find that combining these physical and digital spaces give our clients the best way to visualize their custom homes.
What are some of the most popular trends for 2021?
From a trend standpoint, some of our most requested items include:
Overall
Open concept floor plans still reign, with more requests for private flex/office space
Black windows
Black and brass accents in plumbing, hardware and fixtures
We are seeing a shift from grays that reigned supreme for the last decade to warmer, earthy tones
Adding personality to designs with patterned ceramic tile in small doses, such as in a powder, mud room, or laundry room
Kitchens & Bathrooms
Clean and simple designs continue to win, but with pops of color or texture in finishes. For example, classic white tile designs with pops of brass lighting, plumbing fixtures, or hardware
Minimal accents in showers
Large, 12 x 24" tiles take the focus for a "less is more" look
Our Selections Center in West Chester, Ohio is open 5 days per week from 9am-5pm. We'd love to have you stop in and check out the new space.