Though the process can be quite iterative in nature, here are the five essential steps to take
when selecting lighting for your custom home. All families that build with Wieland Builders go through these steps with our local lighting trade partner, Lighting EFX, as part of the design process.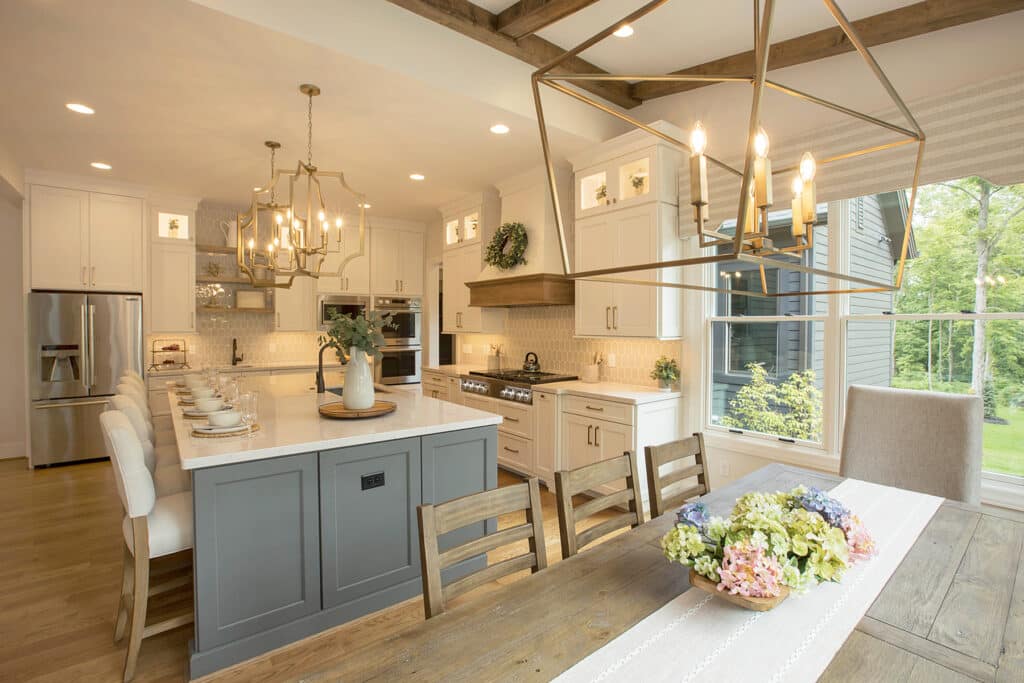 Esteemed interior designer Benjamin Noriega-Ortiz was once quoted in ELLE Decor stating,
"Light is the magical ingredient that makes or breaks a space; it's one of the most important
elements in all [my] interiors." Though this particular quote went to print in 1994, it is
a statement that continues to ring true even today, nearly 30 years later. Lighting, perhaps now
more than ever, is a true capstone to any home, particularly in newly built homes.
Gather Inspiration
Before beginning your lighting journey, it is a good idea to start thinking about your likes and dislikes in home lighting. Pinterest, Houzz, magazines, Instagram, Wieland Builders website, and blogs are excellent sources to understand the different trends and technologies at your disposal. If you don't fully know what fits your style, that's OK, that's where our lighting partner, Lisa with Lighting EFX, and our designer, Robyn, step in. A few trends we are seeing right now include oversized lighting and gold accents. Many other families have selected contemporary, clean modern options or an industrial look, which is also quite popular at the moment.
Think About Your Lighting Needs and Wants
Think about your lighting needs and wants for each room in your home. Do you need under-cabinet lighting for tasks in the kitchen? Do you like the look of cabinet lighting for display? Do you need a spotlight on a piece of artwork that is on display? Do you like ceiling fans in your bedrooms? If you are unsure, again that's OK. This is where Lisa and Robyn can help with your selections.
Meet With A Lighting Expert
Once you've gotten some inspiration, it is a great idea to meet with experts in lighting design.
During the earlier phases of the build, each of our families meet with Lisa for an initial
consultation appointment. Wieland's in-house designer, Robyn, accompanies you to this
meeting. She knows all of the elements you've already selected and your style preferences to ensure a cohesive look and feel. This appointment typically begins with a visit to the Lighting EFX showroom in West Chester.
Be it transitional, farmhouse, modern, or industrial, the duo helps advise on trends, size, and amount of light. This is perhaps one of the most crucial reasons lighting designers like Lisa make a difference; they can really envision how a space will look with specific lighting sizes, shapes, and finishes. Not only that, but lighting consultants like Lisa can also help to prioritize your budget, advising that certain spaces, such as the kitchen, can use more spend than others. Shortly after this meeting, you can expect a compiled quote with a colored printout of your newly selected beautiful light fixtures.
Go On An Electrical Walk-Through
One of the reasons we continue our strong relationship with Lighting EFX is the amount of effort
the team puts into each build. One of the differentiators with Lighting EFX and Lisa is the fact
that they take the time to participate actively in the home's electrical walk-through. In this
meeting, Lisa is able to truly make a difference in your custom build by supporting decisions such as where switches go and helping confirm that all of the thoughtfully laid-out plans will be executed properly.
Enjoy Your Well-Lit Home
After the electrical walk-through, Lighting EFX continues to support you, even though your input
will be complete. Their team will deliver all of the lights to the job, ensuring special care for all
fixtures, as well as taking care of all of the specialty bulbs needed for each piece. Of course, if
you have any questions throughout the process, you are more than welcome to contact us or
Lisa and her team directly. We are united in our support for you and your goals. Our trade
partnerships make your life simpler, so all you have to do is move in and enjoy your new home. Soon, you'll be able to invite friends and family over and be proud of your custom home lighting selections.
Wieland Builders Partner with Lighting EFX for Selecting Custom Home Lighting
Wieland Builders proudly partners with Lighting EFX to create the best suite of lighting for your
custom home. Lighting EFX is a lighting retailer based in West Chester, Ohio, and has been
owned and operated by Todd McKinley for nearly 30 years. With a large offering including
thousands of fixtures, Lighting EFX allows our families to choose from any style and function to
ensure your home is well-lit and aesthetically pleasing. From fans to exterior lights, our partnership with Lighting EFX makes it your one-stop shop for gorgeous lighting.
Wieland Builders is very particular when it comes to hand-selecting the best companies to work alongside that follow the same values, expertise, and passion, giving our homeowners the best possible experience and products they deserve in their custom homes. When Jeff Wieland and Robyn Howser hired Lisa Abraham from Lighting EFX to help assist their customers, they knew right away she was the professional for the job. Lisa has become part of the Wieland Builders family for 8 years and works side by side with our designer, Robyn Howser. She knows what it takes to help our homeowners create their dream homes. Lisa says, "I help take the family's ideas to a cohesive, finished product, as well as some steps you can be aware of when selecting lighting for your custom build."
We recently sat down with Lisa Abraham, a lighting designer at Lighting EFX, to hear her
perspective on how she helps our families through the lighting design process. Having worked
with Wieland Builders for over 8 years now, it's safe to say that Lisa knows a thing or two about how we
help our clients' dreams become reality. Lisa shared how she takes a family from ideation to a cohesive, finished product, as well as some steps you can be aware of when selecting lighting
for your custom home build.
Wieland Builders Can Bring Your Custom Home Dreams to Life
Wieland Builders is a custom home builder based in Cincinnati, Ohio. We are a family-owned
business that is now on its third generation of builders, largely thanks to the values put in place
by their family over 65 years ago. Our builders, Jeff and Mike, operate with honesty,
dependability, quality, and family at the forefront of every project they do, which allows them to
create truly exceptional homes to be enjoyed for a lifetime.
Each of our families go through a stress-tested, tried-and-true process, beginning with a
consultation to truly understand your vision. Jeff and Mike, as well as the whole Wieland team,
walk closely alongside each family to ensure total satisfaction and transparency throughout the
build.
Whether you're ready to build now or if you're just beginning to explore the process, we would
be honored to help you in making decisions for your new home. Give us a call today at (513)
801-0860 to discuss any questions, or concerns, or to learn more about our exceptional homes.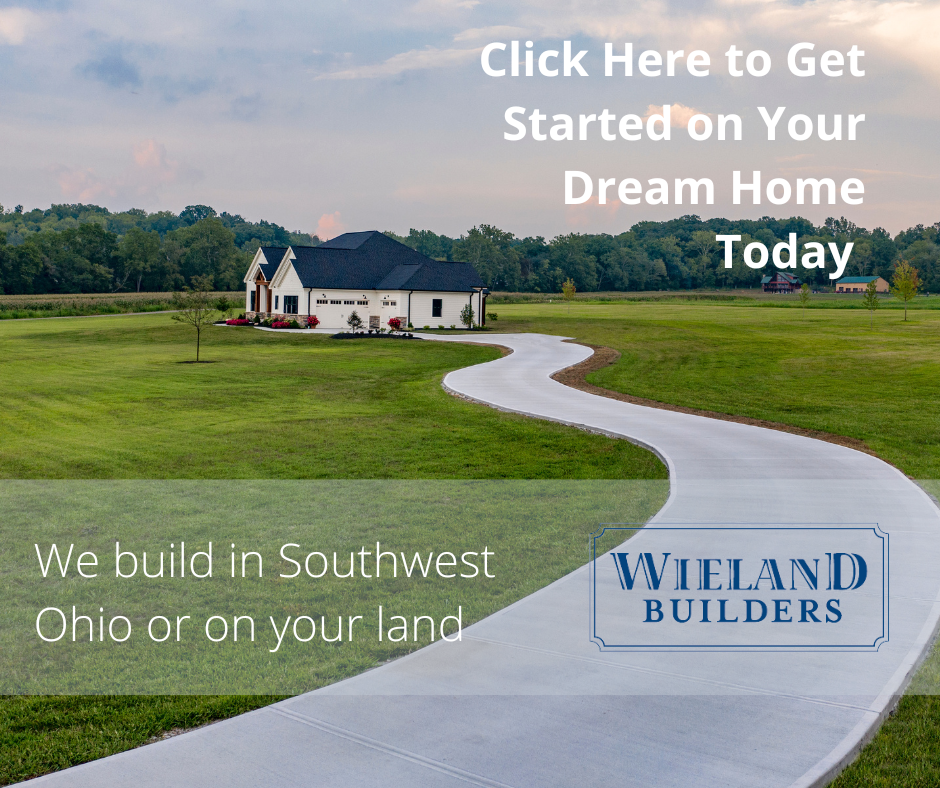 STAY IN THE KNOW
Want home inspiration, tips, and trends delivered straight to your inbox? Subscribe to our newsletter!